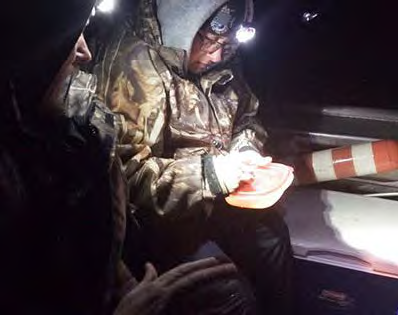 Staff from Jordan River and Iron River National Fish Hatchery and Alpena Fish and Wildlife Conservation Office collecting Cisco Eggs on Lake Huron. Credit: USFWS
Recently staff from the Jordan River and Iron River National Fish Hatchery (NFH) and Alpena Fish and Wildlife Conservation Office was out on Lake Huron, near the Les Cheneaux Islands collecting cisco eggs for current restoration projects. These fish are an important part of the prey fish community in the Great Lakes and serve an important role in many predator-prey relationships.  In an effort to reestablish and enhance cisco populations the U.S. Fish and Wildlife Service (USFWS) has partnered with multiple agencies to begin to create a broodstock to assist in the reintroduction of lake herring and whitefish in the Great Lakes. Ciscos have experienced a decline in the Great Lakes due to commercial fishing, habitat degradation and an invasion of non-native species such as invasive plankton, alewife, and zebra and quagga mussels. A top priority with for the Service has been to recover native species to provide a better balance in food-web structure and function. Eggs were collected from Lake Huron during the month of November and shipped to Genoa NFH for incubation in the current regional isolation facility. Samples from the parents were taken and sent to La Crosse Fish Health Center for disease inspection. Once the eggs arrived on station they were disinfected and incubated at water temperatures between 45-46 degrees Fahrenheit in an insulated recirculating system. They are currently incubating and being monitored for development. As the eggs begin to hatch, an equal representative sample of fry from each pair of parents will be transferred to circular culture tanks for grow out. Once the fish begin actively feeding they will be offered a combination of live brine shrimp and dry commercial diets.
Insulated egg incubation system and Cisco
eggs. Credit: USFWS
As the eggs are developing and final construction is wrapping up on the new isolation building, maintenance mechanics Zach Kumlin and Jeff Lockington are adding back up life supports systems and constructing automatic feeding systems for brine shrimp. The automatic feeders will allow biologists to set a timer that will dispense feed into the tanks throughout the day.  This is essential because these fish grow better when they are offered small amounts of food spread across intervals during the day and will also support fish health by reducing human interaction in return minimizing stress and maximizing growth.
These fish will remain in the isolation facility until clearing three separate disease inspections by the La Crosse Fish Health Center. If the ciscos clear disease inspection after approximately 18 months, they will be transferred to Jordan River NFH in Michigan. These fish will then be used as captive broodstock in the national fish hatchery system. Future re-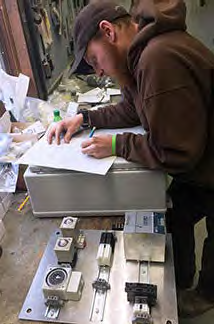 introductions of native prey species into the Great Lakes will strengthen food web dynamics and increase availability of food for apex predator fish such as lake trout.