By: Aaron von Esch
U.S. Senator Tammy Bald-win from Wisconsin visited Genoa NFH in early August as part of a tour of Wisconsin's freshwater coasts. She was given a tour of the Mississippi River around Blackhawk Island where mussel biologists showed her an active native mussel bed exhibiting a few species of native mussels from the Mississippi River. She then received a brief life history on some of the native mussels found in this area. Her next stop was at the mobile aquatic rearing station (MARS) located at Blackhawk Park. There she was able to see a part of the hatchery's mussel propagation efforts underway. In the trailer Sen. Baldwin was able to get a close up look at the endangered Higgins' eye pearlymussel, along with snuffbox, winged mapleleaf, and sheepnose mussels. These mussels are raised in the MARS trailer which uses river water because of the rich source of food items conducive to freshwater mussels contained in the Upper Mississippi River water.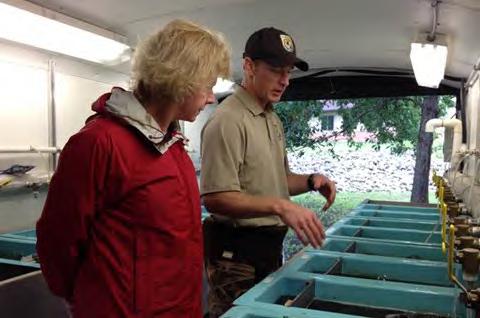 Senator Baldwin checks out some Higgin' eye
Next Sen. Baldwin visited the hatchery and received a tour of the sturgeon building which housed over 80,000 juvenile lake sturgeon. A life history of lake sturgeon and explanation of our propagation for restoration and recovery efforts of these fish followed. Sen. Baldwin also got to truly get a grasp on an ongoing restoration program by holding a semi-willing volunteer and feel the scutes (modified sharp scales used for protection) on these fish. She also toured the coaster brook trout building where she saw over 20,000 fingerling brook trout that will be kept on station and grown to 10 inches before being released on the Northern shore of Lake Superior.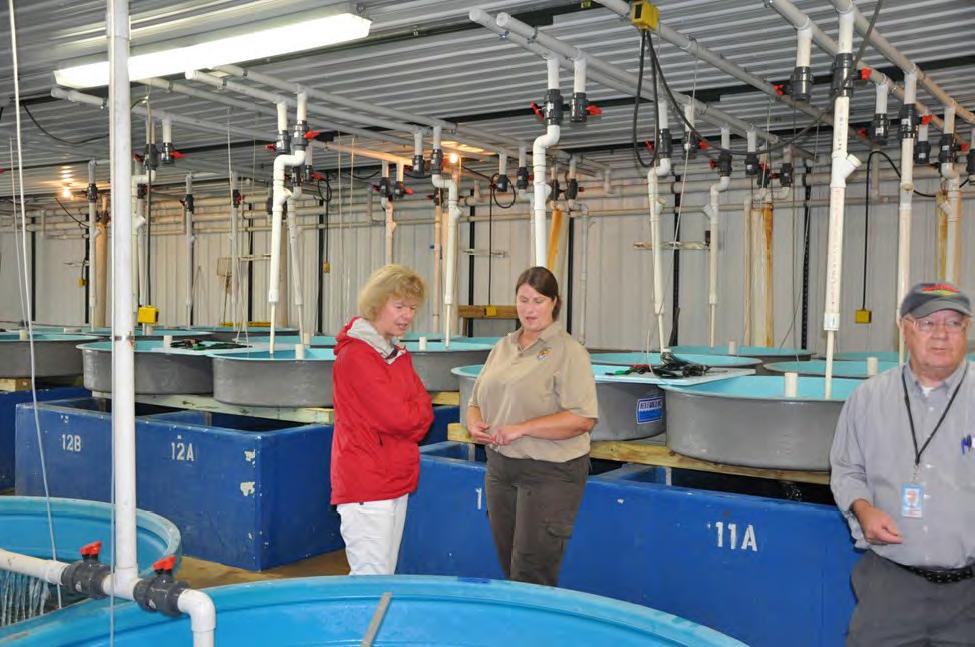 Angela shows off this years' class of sturgeon
Senator Baldwin was also briefed on plans for a new interpretive visitor center that is being planned at the hatchery. The Great River Road Interpretive Center will provide information to the public about the history, native species, and natural resources of the Mississippi River. The station was honored to host Senator Baldwin as she gathered information on ongoing federal conservation activities on the River, and in the State.