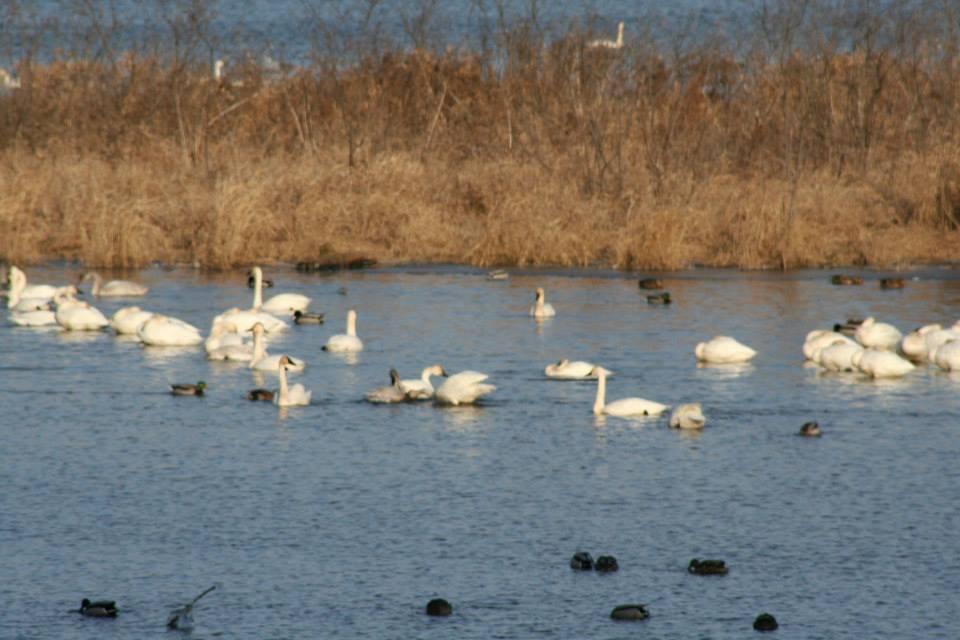 The annual Waterfowl Observation Day, hosted by the Upper Mississippi River National Wildlife and Fish Refuge, Upper Mississippi River Interpretive Association(UMRIA), and the Friends of the Upper Mississippi (FUM), will be held Saturday, November 8th at the Brownsville Overlook between 10:00 a.m. and 2:00 p.m. Visitors will be able to view migrating birds that have stopped to rest and feed along their journey to their wintering grounds.
Binoculars, spotting scopes, and bird identification guides will be available for visitors to use. Refuge staff, members of UMRIA, members of FUM, and volunteers will assist with bird identification, discuss the Pool 8 island restoration project, and answer related questions. Refreshments will be available during this event with all donations benefiting FUM. Members of UMRIA will have items available for purchase from the Prairie Wind Nature Store, featuring a new tundra swan ornament.
Brownsville Overlook is one of the best places along the river to view hundreds of tundra swans; diving and puddle ducks; bald eagles; and other birds. The overlook is located about three miles south of Brownsville, Minn., along Highway 26.
If you aren't able to make the special event on November 8th, Refuge staff and volunteers will be available at Brownsville Overlook every Saturday and Sunday from October 25th – November 23rd between 10:00 a.m. and 4:00 p.m. to share information about migrating waterfowl and eagles. Please note that refreshments will only be available on November 8th.
For more information, contact the La Crosse District Office at (608) 779-2399