BY KATIE LIEDER, LA CROSSE FWCO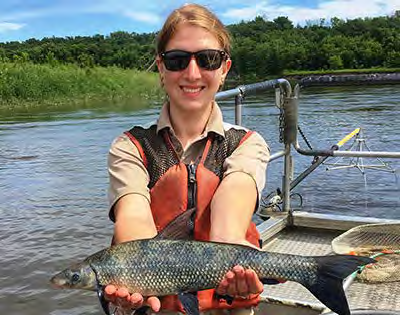 On June 4th, 2017, a bow angler harvested a nearly 62 pound bighead carp in a gravel pit pond on the Minnesota River floodplain near Redwood Falls, Minnesota (MN). This was concerning because not only was it the largest Asian carp recorded in Minnesota waters, but it was also captured approximately 80 miles upstream of New Ulm, MN, where a bighead carp was captured in 2016.
Blue sucker captured on the Minnesota River. Credit: Kyle Mosel, USFWS
In response to this new fish capture, the Minnesota Department of Natural Resources (DNR) coordinated sampling the area for additional carp. They requested the La Crosse Fish and Wildlife Conservation Office (FWCO) assist in this effort by collecting eDNA samples in the gravel pit and electrofishing in the Minnesota River. The La Crosse FWCO started the day by collecting eDNA samples in the gravel pit where the bighead carp was harvested, as well as two nearby gravel pits. At the time of sampling, these gravel pits were separate from the Minnesota River, but during high water periods they are connected to the river, which would allow Asian carp to enter. Sixty-six samples were collected and sent back to the Midwest Fisheries Center for processing. These samples will be analyzed by the Whitney Genetics Lab to test for the presence of Asian carp DNA in these pits. Next, the La Crosse FWCO crew switched gears and began electrofishing on the Minnesota River. We have observed that Asian carp are often found in river bends and seek cover in tree snags in our work on the Mississippi, so we targeted these areas on the Minnesota River. Although no Asian carp were observed or captured during sampling, a wide variety of native fishes were found, including smallmouth and bigmouth buffalo, shorthead redhorse, quillback, walleye, mooneye, longnose gar, and flathead catfish. Two unique finds were a blue sucker, which is a special concern species in Minnesota, and an awesome 29 inch walleye.  We were happy that we could assist the MN DNR in their rapid and thorough response to this bighead carp capture. The natural beauty we witnessed highlights the need to protect our native aquatic communities from the threat of invasive species.
Flooded gravel pit where the 62 pound bighead carp was captured and eDNA samples were collected. Credit: Katie Lieder, USFWS