By Mark Steingraeber
All of us at the La Crosse FWCO knew that, eventually, the day would come. Since late October, we were acutely aware that we were now working on borrowed time. The end of an era was staring us in the face.
But what a face to look up to … from near, as a the projector leader of our office for the past two decades … and from afar, as a guiding light to others for the conservation of aquatic resources in the Upper Mississippi River Basin and far beyond. With a contagious smile, an ever optimistic spirit encouraging personal and professional growth, gender equity, and a mantra that "it's all about the resource", who could ask for a better mentor and friend!
Pam Thiel, a Service employee for 25 years and
FWCO project leader for two decades, retired
and left our building January 31 — We look
forward to her return as a volunteer in the field!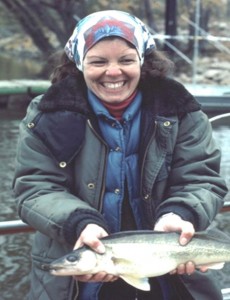 My first clue came about five years ago, when I was asked for advice on federal health insurance plans. The most recent hint came early last fall: the office beside mine took on a lingering Spartan-like appearance (long after it was painted in the summer) with uncharacteristic bare walls and large boxes (filled with books and years of valuable records) that suspiciously occupied too much floor space.
The final shoe dropped and a bombshell landed on October 22 during our staff meeting when Pam Thiel announced we were the first to know (besides husband John) that she would retire in 3 months. We took the news with mixed emotions (note the black arm bands we still wear) and immediately began preparing a cele-bration to send Pam out riding in style.
Held in La Crosse on February 2, Pam's retirement party attracted more than 150 colleagues and friends from around the region who came to wish her well.
What awaits Pam (and John) in the future?
As those of you who know her may have guessed, she anticipates pursuing a balanced mix of some things old (world travel, fishing, community service) and some things new (sleeping in, bike riding, wearing less brown and more purple clothing).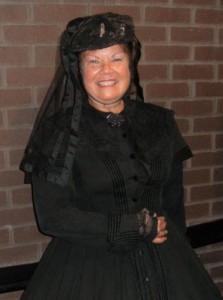 So don't be surprised if she reminds you of a colorful Eleanor Roosevelt rather than a somber Mary Todd Lincoln when you see her in the days ahead. After all, the end of one era leads to the start of another.
Best Wishes Pam!