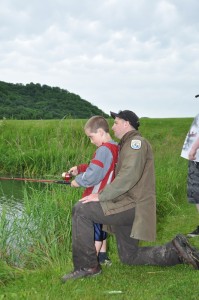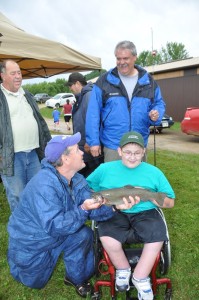 left:Proud angler and mentor show off their catch at the CAST fishing event held at the Genoa NFH – Photo Credit: USSA photo
right:Service employee mentors angler at CAST event – Photo Credit: USSA photo
One of possibly the greatest days of 2013 on the Upper Mississippi happened at the tail end of a torrential downpour that nearly swept southwest Wisconsin into northern Illinois this June. The Genoa National Fish Hatchery was organized a fishing event on Pool 9 of the Upper Mississippi River with support from U.S. Fish and Wildlife Service Fisheries program field stations and te National Wildlife Refuges on the river, along with many local and national partners.  The diverse group banded together to host a memorable event of fishing for critically ill children and children with limited accessibility to enjoy the outdoors.
The event planning commenced by working with CAST for Kids and the United Special Sportsmans Alliance, two national advocates for creating opportunities to get critically ill children outside in outdoor "make a wish" situations. Through these organizations, the participants and their families were contacted and children were outfitted with fishing poles and gear to make a morning of fishing a reality on the big river. The only thing left to chance was the weather. Did we ever find out just what nature is capable of. On the morning of the 21st, Genoa recorded over 3.25 inches of rain in one hour and the U.S. Army Corps of Engineers Blackhawk Park where the event was scheduled to take place ended up underwater in many places. With children and their families already on their way Plan B was executed and the accessible fishing pond located on Genoa National Fish Hatchery grounds was the new location for the event.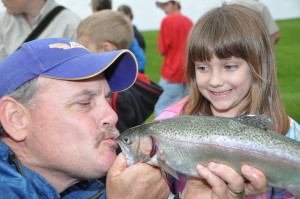 Boat captain and child celebrate their catch. – Photo Credit: USSA 
After a tour of the hatchery, the skies cleared and the children were set loose on the hatchery pond stocked with bluegill sunfish, yellow perch and rainbow trout. Many smiles were created as volunteer boat captains and other volunteers helped the kids reel in their "trophies." Much gratitude and thanks go to Service staff, our local Friends groups, and the volunteer boat captains that never got a chance to get their boats in the water, but stayed and helped the children fish. After catching their fill of fish a barbecue lunch sponsored by the Genoa Lions club finished off the day. This was an event that the volunteers and staff more than likely felt better leaving than even the successful anglers as they packed up and dried off for the trip home.