By Bill O'Brian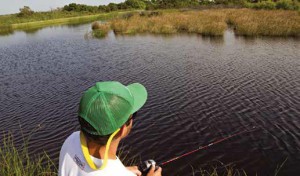 Back Bay National Wildlife Refuge in Virginia – a critical feeding and resting spot for migratory birds along the Atlantic Flyway – has felt the pressure of invasive species budget cutbacks on multiple levels. (Joe Milmoe/USFWS)
Federal budget cuts and the sequester have constrained the work of the National Wildlife Refuge System across the board, but invasive species control has been particularly hard-hit.  Over the years, the Refuge System has made great strides in eradicating or controlling invasive plant and animal species on land it conserves.  It has eradicated rats from Palmyra Atoll National Wildlife Refuge and from Hawadax Island in Alaska Maritime Refuge. It has eradicate Spartina densiflora (a cordgrass) from California's Humboldt Bay Refuge and is on track to eradicate Verbesina encelioides (a flowering plant) from Midway Atoll Refuge. Hundreds of smaller projects have controlled invasives for the benefit of fish, wildlife and native habitat.
However, as Refuge System funding has been reduced by $50 million since fiscal 2010, the fight against invasive species has suffered. Refuge Annual Performance Plan (RAPP) data from 2010 to 2013 show:
•The number of acres of non-native, invasive plants controlled declined by 60 percent.
•The number of acres treated for non- native, invasive plants declined by 37 percent.
•The number of invasive animal populations controlled declined by
46 percent.
Furthermore, a $1 million Refuge System initiative that has supported one or two large invasive species projects annually since 2009 – including projects cited above– may not be funded for fiscal 2014.  Back Bay Refuge in Virginia and the U.S. Fish and Wildlife Service Northeast Region in general exemplify how budget pressure affects the field.
"Given the cuts over the past two years, including FY14, we will likely not be able to do any aerial spraying for phragmites, which is a widespread problem throughout Back Bay," says refuge manager Doug Brewer. "Without aerial spraying, it is very difficult to control 'phrag' since it spreads quickly."
Controlling phragmites is important to the 9,250-acre refuge that provides critical feeding and resting habitat for migratory birds along the Atlantic Flyway.  Uncontrolled, the non-native reed grass aggressively crowds out seed-producing native vegetation that benefits birds.
Additionally, Northeast Region invasive species biologist David Bishop, who was stationed at Back Bay Refuge until recently, has not been replaced.   Bishop "gave us almost unlimited access to expertise on invasive species control," says Brewer. Bishop, who now works at The Nature Conservancy in South Carolina, also provided guidance regarding phragmites, feral pigs, nutria and other invasives to federal and state land managers all along the East Coast.
Budget constraints have forced the Northeast Region to leave dozens of Refuge System positions vacant, according to acting regional invasive species coordinator Laura Eaton. "So as people leave, there is no filling behind them. Only critical positions are refilled – such as refuge managers," she says. "There was no intention or desire to cut the regional invasive species specialist, but there is no way to fill the position without losing another important position."
Back Bay Refuge felt a double whammy, but across the Northeast, as in other regions, invasive species projects are being squeezed. At New England's Silvio O. Conte Refuge, control of pale swallowwort and water chestnut has been jeopardized. In Maine, a summer seasonal invasive plants biotech position went unfilled. In upstate New York, Iroquois Refuge had to drop plans for an ambitious invasive control effort, and Montezuma Refuge had to forgo vital reed canary grass control in 2013.
The concern for refuges everywhere is that hard-won native habitat gains will be lost if budget pressure doesn't ease soon. "It is critical that prevention, early detection and rapid response, control or eradication are carried out as planned," says Refuge System invasive species coordinator John Klavitter. "Otherwise, time and effort are wasted, and the number of invasive species increases and/ or expands their range."