BY DOUG ALOISI, GENOA NFH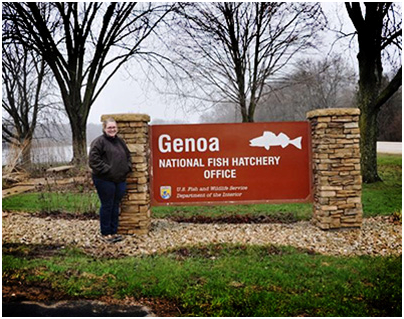 Megan Bradley arrives at Genoa NFH. Credit: USFWS
Megan Bradley, formerly the Southwest Virginia Freshwater Mussel Recovery Coordinator of the Virginia Department of Game and Inland Fishes, has joined us at Genoa National Fish Hatchery (NFH) as our new freshwater mussel propagation biologist. We are very excited to have her join our team as she brings a depth of experience in intensive mussel propagation systems with her that we plan to use in the "Clam Palace", our freshwater mussel propagation facility.
Genoa's mussel program is a relatively new program, beginning in 2000, and originally concentrated on extensive mussel culture. This method focused on the placement of fish that have been "infested" with mussel larvae, or glochidia, and caged over suitable mussel habitat. As the field of mussel propagation has progressed, more intensive methods of mussel culture have been developed. These involve controlling temperature, water quality, and feed availability in specially designed culture units that typically recirculate or use standing aerated water. Megan did her Masters of Science work at Missouri State University with Dr. Chris Barnhart, one of the pioneers of modern freshwater mussel propagation. Some of the very systems that Dr. Barnhart developed have either been put into use or will be put into operation soon in order for us to further the station mission of freshwater mussel conservation. Megan will be working closely with Nathan Eckert, our senior mussel propagation biologist, on the many ongoing Recovery and Restoration projects that Genoa is working on.
Please join us in welcoming Megan to the Midwest!