By Gretchen Newberry, Midwest Fisheries Center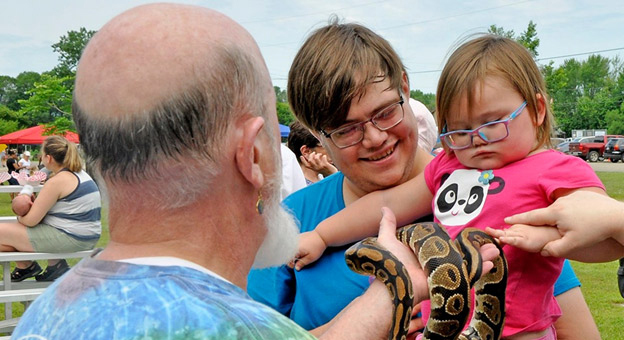 On July 13 at Veterans Freedom Park in La Crosse, Wisconsin, more than 1,400 adults and kids attended the 11th Annual Youth Outdoor Fest. This free event featured 45 outdoor activities including a reptile show, a zipline, archery, arts and crafts, and geocaching. The festival is a collaboration between the U.S. Fish and Wildlife Service Midwest Fisheries Center, La Crosse Parks and Recreation, and the Friends of the Upper Mississippi.
Each year in Wisconsin's Driftless Area, Genoa National Fish Hatchery, Upper Mississippi Wildlife and Fish Refuge, the U.S. Army Corps of Engineers, U.S. Geological Survey, the Wisconsin Department of Natural Resources, as well as many businesses and nonprofits come together and offer outdoor activities to families. This year, attendees enjoyed archery, storytelling, pontoon rides, canoeing, kayaking, furs and skulls identification, forestry, fish identification, fish and mussel touch tank, dog training, BB gun safety, bird feeders, invasive plant identification, knot tying, water safety and Leave No Trace education.
We invited new booths this year including Hillview Urban Agriculture Center's 'composting with worms' activity and Kane Street Garden to emphasize sustainable wild foods. Badgerland Girl Scouts, Norsekedalen Nature and Heritage Center, REI's 'camping gear demo', David Stokes' 'reptile show' and Viterbo University's insects were also new additions to the festival this year. Thank you to all of our volunteers, booths and partners, for making this event so successful for 11 years and counting.
If you have an outdoor activity you would like to feature in a future festival, typically held the second Saturday in July, contact the Midwest Fisheries Center Visitor Services Specialist Gretchen Newberry at Gretchen_Newberry@fws.gov.