On July 1st, 2020, the hatchery received 12 devil crayfish from the Forest Preserve District of DuPage County to see how they would grow and survive using the same rearing techniques as the Hine's emerald dragonfly. The Forest Preserve had collected the eggs in 2019 and with the excellent survival last year and over the winter, was planning for the crayfish to go to local schools as part of an outreach program. With the outbreak of COVID-19 and schools being closed, the programs were unable to start up in 2020 and the crayfish were outgrowing their homes, starting to fight one another, causing damage, missing claws, etc.
The transfer to Genoa allowed the Forest Preserve to reduce their numbers and allowed Genoa to try rearing a new species. Upon arrival, the crayfish were individually swabbed, and those samples sent to the La Crosse Fish Health Center for disease testing. They are being housed in the dragonfly trailer in cages to allow pond water to flow through to provide zooplankton for food and then the effluent water is discharged off station to prevent any possible outside contamination while the disease testing is pending. To date, they have survived the first couple molts, indicating they are eating well and the water quality is good for the crayfish [Continued on
[Continued from Page 2] These crayfish are an important part of the habitat for the Hine's emerald dragonfly, their extensive burrows with chimneys provide a home to the larval stage of the dragonfly during times of drought and over the winter. Future work with this species will include studies of how they move, what materials they will use for burrows and to see if they will stay in locations where they are stocked, creating habitat for the dragonflies.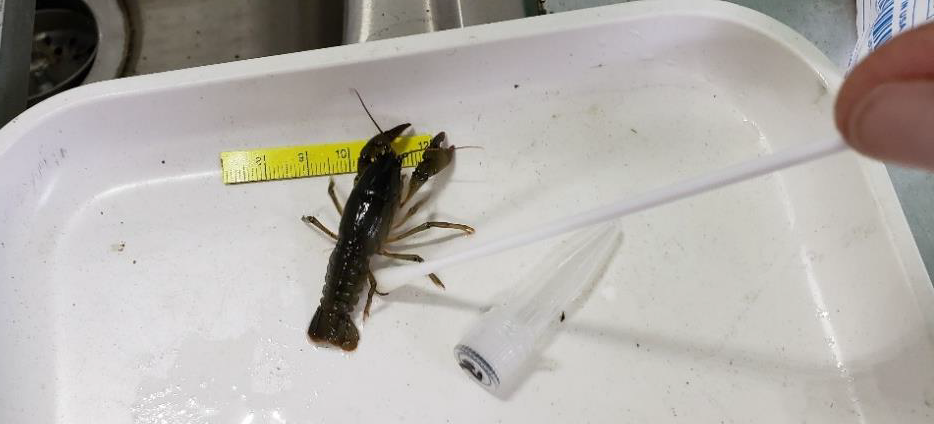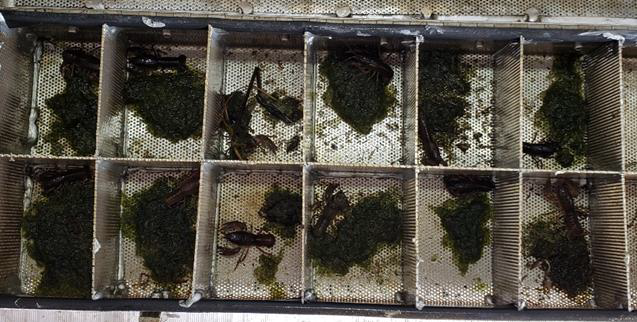 Top: Crayfish being swabbed for disease testing. Bottom: Crayfish in individual cages. Photo by Angela Baran Dagendesh /USFWS Photos.
By Angela Baran Dagendesh