Staff from the Jordan River and Iron River National Fish Hatcheries (NFH) and Alpena Fish and Wildlife Conservation Office (FWCO) were out on Lake Huron, near the Les Cheneaux Islands collecting cisco (Coregonusartedi) eggs for current restoration initiatives taking place within the U.S. Fish and Wildlife Service.
After trawling, eggs are collected from ripe females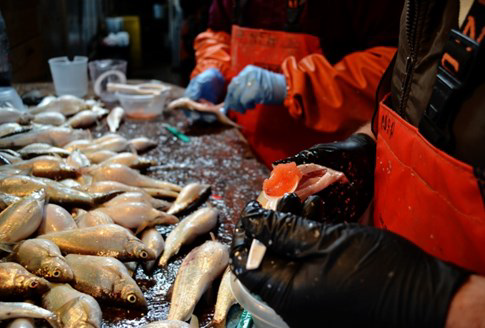 The eggs arrived on station in mid November and were incubated until hatching began in early January. The hatching of this species at Genoa NFH marks a historical event at the station as it is the first time these fish are being raised here, and the first time that they have been raised at a federal facility since the early 1900's.
                                            Eyed up' cisco eggs almost ready to hatch
As the eggs began to hatch an equal number of eggs from each pair of spawned adults were separated into distinct lots of fish that will makeup future broodstock to be used in helping to restore this species. The importance of this fish species lies primarily in its role as a native prey species for the Great Lakes systems. Restoring the numbers of native ciscos helps to balance the native food web structure and function.
Newly hatched cisco fry at Genoa   
Native prey species such as ciscos were hindered by the introduction of invasive species, habitat degradation, and commercial harvest. Once passing a series of three fish health certifications they will be transferred to Jordan River NFH in Michigan, once there they will serve as a captive broodstock for recovery efforts. In a continuing effort to reestablish native prey species in the Great Lakes system Genoa NFH will be partnering again with Jordan River NFH, Iron River NFH, Alpena FWCO,and the Green Bay FWCO to collect bloater chubs. Bloater chubs (Coregonus hoyi) are a member of the whitefish family and are also an important part of the prey fish community in the Great Lakes and serve an important role in many predator prey relationships.  Bloater chubs have experienced a decline in the Great Lakes due to commercial fishing, habitat degradation and an invasion of non native species such as invasive plankton, alewife, and zebra and quagga mussels. Because of these invasive species many of the native aquatic species in the Great Lakes are negatively affected.  These species like all invasive species tend to quickly establish themselves andsoon become a fierce competitor for food and niche space for native species. A top priority with Great Lakes managers has been to recover native species to provide a better balance in food web structure and function. The new quarantine systems at Genoa NFH will serve an extremely important role in developing future captive broodstocks for both of these native species. The station needs a safely contained area to develop these key species as well as provide opportunities to research and learn about these fish. The knowledge gained from the captive care of these fish will help the U.S. Fish and Wildlife service better manage and reach its goals of developing and maintaining Great Lakes fisheries from the bottom up. Keep watch for more updates on how the programs are progressing. By Aaron Von Eschen
'