By: Erin Johnson
Lake surgeon season has begun and Genoa! Over the past few weeks staff from Genoa has been traveling to various locations to collect and spawn lake sturgeon eggs from Shawano Dam, near Green Bay, Wisconsin Dells Dam and on the Rainy River at the First Nations Tribe Reservation in Ontario Canada. Ripe female eggs were collected into a stainless dish where they were then fertilized by the males. Once collected the eggs are distributed into 3 or 4 separate buckets were active sperm from 3 or 4 males are added. Using more than 1 male at a time will help ensure genetic diversity. Once blended a mixture of bentonite clay and well water are added and stirred for 30 minutes. This clay mixture is used to prevent eggs from clumping and sticking together. After the clay bath the fertilized eggs are disinfected using an iodine solution and returned to the hatchery. Upon arriving at the hatchery, an inventory is taken and eggs are put into egg jars where they are treated and turned until they hatch. Sturgeon "babies", also known as fry, are initially fed a diet of brine shrimp. As they grow they are moved onto a krill and bloodworm diet. Once the fry have grown to a couple inches they are tagged and prepped for distribution. Sturgeon are tagged using a small coded metallic wire with each strain assigned its own code. These tags help to identify where the sturgeon was reared when caught for future surveys. Once all sturgeon has been tagged, staff will travel with the sturgeon to their new homes. Sturgeons are stocked into various rivers and streams in efforts to restore and maintain populations. For the start of the 2016 lake sturgeon season Genoa is currently hatching approximately 130,500 eggs. Stay tuned for summer updates and send offs in the fall!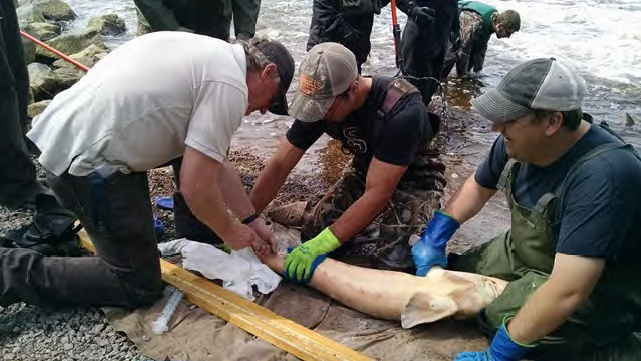 Collecting sperm out of a male lake sturgeon from the Shawano Dam.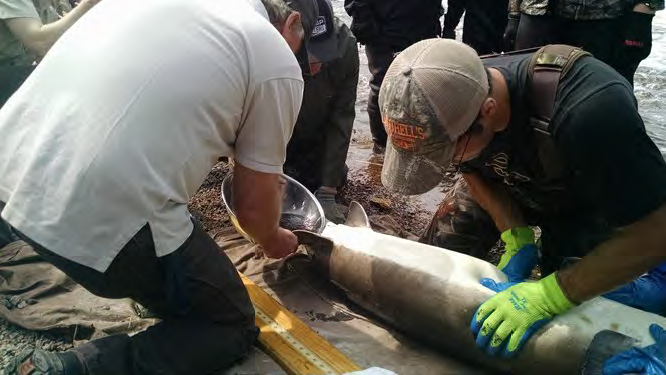 Collecting eggs out a female lake sturgeon from the Shawano Dam.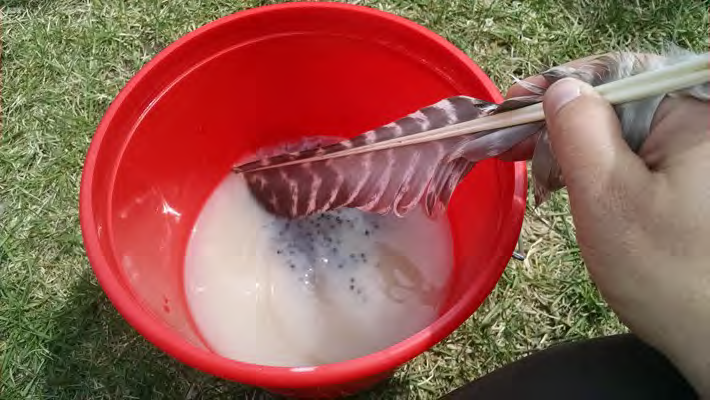 Blending fertilized eggs in a bentonite clay mixture
First lake sturgeon fry of 2016!