By Megan Bradley, Genoa National Fish Hatchery
Each year our mussel biologists complete training, take their gear for servicing and then reassemble their kits to make sure they can safely dive for the season.  This involves ensuring that tanks that hold their air are safe and sealed and taking the regulators they breathe from to be cleaned and parts replaced, as filters inside of them collect fine silt from the water and their occasional contact with the river bottom [you'll have to excuse the snail shell that we found one year].
Training is going to be a bit late this year, falling in the first week of May.  We'll start by testing our new BC's (Buoyancy control devices- or the vests we wear to keep our gear on our backs, and together) in the pool at Marineland to see how they work for our style of diving.  Next, we'll do a First Aid, CPR, AED and Divers Alert Network Oxygen refresher online, then meet in person to practice scenarios and apply our skills.  Finally, we'll dive in the university pool to demonstrate our basic dive skills and train a new diver on dive tending skills and to test our athletic prowess in swimming.  This is everyone's least favorite part since we don't swim much when we dive for mussels, as we're pretty practiced in staying right on the bottom.  Gathering and training together is a learning experience, and a fun one, and makes our divers safer and builds a strong team to accomplish our freshwater mussel conservation goals.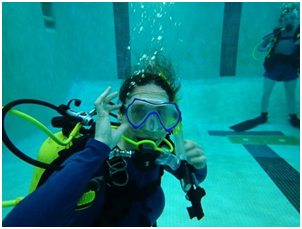 Genoa NFH diver, Beth Glidewell, clears her mask during this year's dive skills checkout in the pool. Credit: USFWS