BY DOUG ALOISI, GENOA NATIONAL FISH HATCHERY
Kids and their parents from all over the tri-state area of Iowa, Wisconsin and Minnesota gathered at the Genoa National Fish Hatchery for our 19th annual Kids Fishing Day on May 14th this spring. The event, which is sponsored by the hatchery Friends Group, the Friends of the Upper Miss, and the Fish and Wildlife Service Fisheries field stations in the La Crosse area, was attended by over 175 people this year.
The children and their parents/guardians first walked through a set of four learning stations. Station 1 was on boating safety taught by the hatchery's Maintenance Worker Zach Kumlin, at Station 2 mussel identification and conservation by the hatchery mussel biologist Megan Bradley, at Station 3 was fishery regulations by U.S. Fish and Wildlife Service game warden Joshua Bauer of the Upper Mississippi River Wildlife and Fish Refuge Office in Savannah, Illinois and Station 4 offered fish identification and fishing techniques by hatchery lead biologist Nick Bloomfield.
After an hour of learning more about fish and conservation, the kids were allowed to put their newfound knowledge to practical use with a two hour open fishing event on a stocked hatchery pond. Most of the children went home with their five fish limits. The event is very popular with Friends Group members and local Volunteers alike, as they serve as mentors to the children and assist with fishing tips, gear and bait selections, and demonstrate casting. A light lunch was then provided by our Friends group.
This year's event was also made possible by a donation in honorarium by the Bay family, in memory of Earl Bay. Patriarch Earl Bay was an avid fisherman, being especially fond of fishing with the classic cane pole. Through the family's generous donation, gifts were distributed to every child that attended. These included the attendee's choice of the classic cane pole, a fishing rod and reel combo, or a tackle box. Many thanks to the staff of the three La Crosse area FWS fisheries offices, sponsors, volunteers, and Friends of the Upper Miss for making this event possible. Making memories outdoors will reinforce the value of our natural resources to the future generation. It is also hoped that events such as these will build a sense of ownership into the outdoors, and plant the seeds of conservation stewardship to ensure that their children can enjoy all the outdoors has to offer.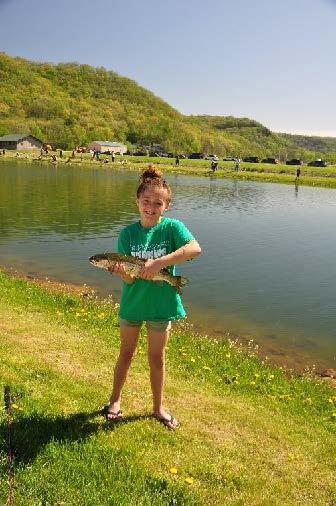 Above: This lucky angler shows off a "whopper" 14 inch rainbow trout that she landed at the Genoa NFH Kid's Fishing Day. Credit: Erica Rasmussen/USFWS