Summer mussel propagation at the MARS trailer
The MARS (Mobile Aquatic Rearing System) mussel culture trailer is set up and running for the 2021 season at Blackhawk Park, a US Army Corps of Engineers facility just south of Genoa. This location allows us to securely park the trailer on the banks of Blackhawk Slough, and to pump river water directly up to the trailer, where it is filtered, UV zapped, and routed to 25 rectangular flow-through tanks. Each tank houses up to 250 sub-adult mussels, each about 1 inch long, or five thousand (or more!) newly transformed juvenile mussels that are about the size of a grain of sand.
Each year is different when dealing with water levels- after a couple of years of delayed trailer deployment due to high water and last year's surprisingly 'normal' water levels (the only thing normal about 2020!), this year we've been dealing with low water situations. Low water helped simplify set-up (a big thank you to Jeff and Zach!), but reduced flow and connectivity to the main channel reduced water quality, especially dissolved oxygen in Blackhawk Slough, and reduces flow capacity from the pump. Just as we were considering starting contingency plans, much needed rains came and raised the water levels back to functional levels in mid-June.
This year's MARS trailer group includes two sub-adult cohorts of Higgins eye, a group of Spectaclecase mussels propagated by the MN DNR, Fatmucket, and small cohorts of Sheepnose and Lilliput mussels. The newly transformed 2021 cohorts began in late June, and now include Pocketbook, Black Sandshell, Hickorynut, Lilliput, and two sub-groups of Higgins eye, including fifty thousand -and counting- juveniles produced from parents in the St Croix River. Watch for pictures of these juveniles on Genoa's Facebook page, and an article later in the year reporting their growing season progress!
By: Beth Glidewell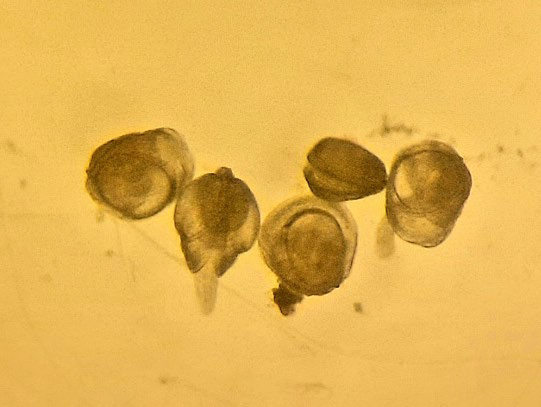 Newly transformed Higgins Eye that will spend their first growing season in MARS tanks. Each juvenile is ~0.3 mm long (or about 1/80th of an inch) when they go into the tanks at the start of the season. Photo: Beth Glidewell