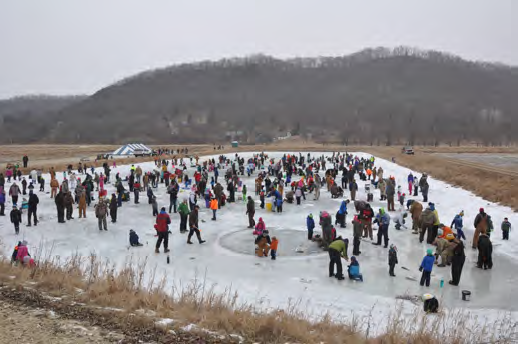 Friends of the Upper Mississippi River and
U.S. Fish & Wildlife Service
(608) 689-2605
The following is the itinerary for our Annual Ice Fishing Day f or children 5 to 12
years old, which will be held at the Genoa National Fish Hatchery, Genoa, WI on
Saturday February 1st, 2020.
This event will be held at the Genoa National Fish Hatchery, S5631 State
Hwy 35, Genoa, WI
Schedule
8:30am to 9:00am Registration
9:00am to 9:15am Ice Safety & Ice Fishing Tips
9:15 a.m. to 12:00 Open Fishing
11:00 a.m. Registration Ends
11:00 to 12:00 Lunch/Dismissal
A light lunch will be provided for the children, parents, volunteers and
employees in a heated tent. Fishing poles, bait and tackle will be provided by
the USFWS in cooperation with the Friends of the Upper Mississippi River. 
Everyone will be dismissed at approximately 12:00 pm.
The event is weather dependent. We will announce the cancellation of this
event on local radio stations WVRQ, 98.3 and Cow 97.1 by 8:00 a.m. the
morning of the event if the weather turns extremely cold or unsafe driving
conditions exist in our area.
Due to the Chance of Introducing Fish Diseases, No o
utside bait will be allowed on the premises.
A Warming Tent will be provided. Due to spaces concerns and
other reasons, no portable ice fishing tents are allowed for this
event.
Children must be accompanied by a parent or guardian.